Appearances
Look out for a new article in Gluten-Free & More June/July issue out soon: 6 Sensational Salads for Supper: Black Eyed Pea & Roasted Corn Salad with Smoky Vinaigrette, Asparagus Orzo Salad (yes, now there is GF orzo), Quinoa Tabbouleh, Spanish Chorizo Salad, Shrimp & Green Bean Salad with Rosemary Cream and Lentil Kale Salad. I will update you when it's on store shelves.
New article in Sandhills Naturally (comes out the first week of May) – I will also update with a link as soon as it becomes available.
Saturday, May 9, 9:30-11:30 free demo and sample of gluten-free, paleo crepes with homemade dairy-free lemon curd and fresh local strawberries (see invite below)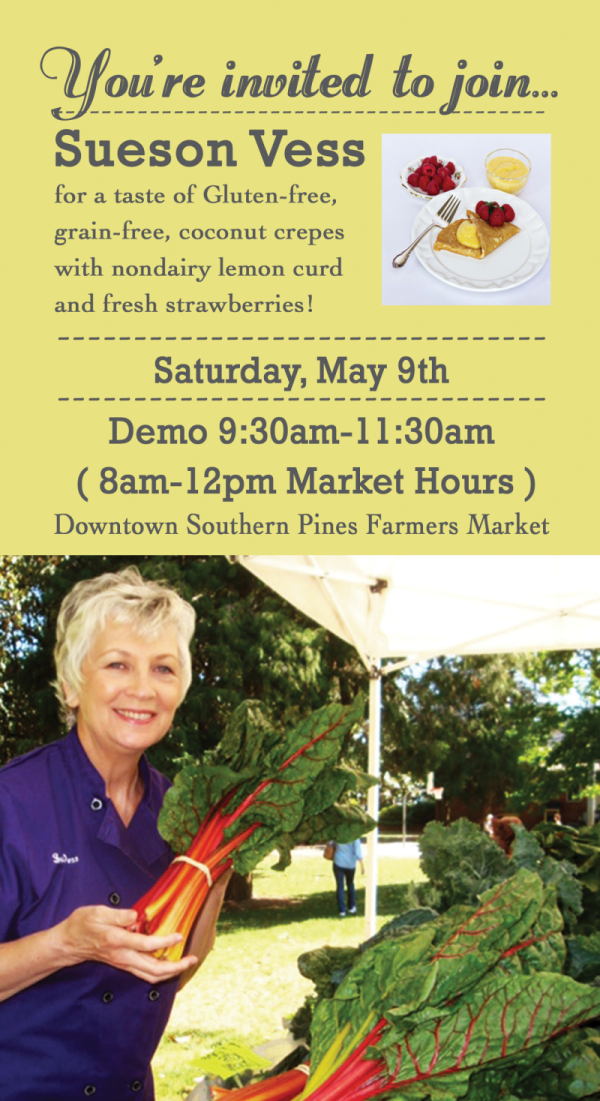 I have a class at FirstHealth on Thursday, May 14 6:00 making crepes, lemon curd, strawberries… There is a fee for class and sign up required. (FirstHealth Fitness Center front desk) or call (910) 715-1800 to register.
($20 Member/$25 Community)