Gluten-Free 101 Cookbook by Carol Fenster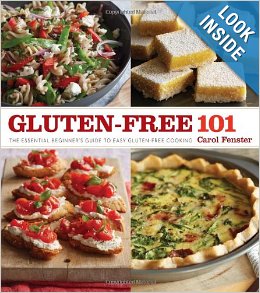 Carol Fenster has lead the way in delicious gluten-free cooking for over twenty years. In 2001, after my celiac diagnosis I looked for resources to help me understand my new way of eating and Carol Fenster was there! Her cookbooks offered creative and trusted recipes allowing me to have delicious breads and baked goods as well as amazing transformed gluten-free meals. Carol has written 10 cookbooks (I have and use them all). Fast-forward to 2014 and she has done it again!
Carol Fenster's latest contribution to simplifying gluten-free cooking. "Gluten-Free 101" is not just for beginners.
"Gluten-Free 101" helps the novice and experienced cook navigate the many new and improved gluten-free products including explanations of how to use and store such products. Carol breaks down each gluten-free "grain-turned-flour" with well-researched descriptions and properties allowing home cooks to know when and how to use each flour. You'll have a clear understanding of thickeners and which ones best suits your need. And you can learn how to convert old recipes into gluten-free masterpieces. This information along with a helpful "Gluten Free Survival Guide", menus and of course, great recipes (175 of them) makes this new addition to gluten-free cooking a sure thing. I highly recommend it!
You can buy it today via Amazon HERE
Stay warm, healthy and happy – and continue to cook with love!
My blessings to you,
Sueson