Great question about Gluten Free Flours
I had a reader ask a great question about gluten-free flours, so I wanted to post the question so other people could benefit from it:
Here is her question:
I'm starting to do more baking and have a couple of questions…Is "All Purpose Baking Mix" the same as a flour blend and, you recommend preparing two flour blends. One with xanthan or guar gum and another without gum. Would I just prepare the flour blend the same for both but eliminate the gum in one batch?
There are many gluten-free flour blends commercially available. Read the ingredient lists to make sure that all the gluten-free flours/starches meet your needs. Some of us cannot tolerate corn or potato or soy — but there are many options and most of us can find one that works for our use. If not you can make you own blend. Most gluten-free flour blends, sometimes called "all purpose gluten-free flour blend" contain a gum to help the "flours" hold together for baking and making pancakes. Many use guar gum, some use xanthan gum. Some also contain salt and you may need to adjust your recipe. This is important because if you are "breading" a piece of fish or a vegetable to saute/fry you DO NOT want a flour with guar or xanthan gum because it will result in a gummy end product. For most uses the gum is not a problem.
One flour that is great on the market is called Cup 4 Cup (it is gluten free, but does contain dairy)
Click here to find out where you can buy Cup 4 Cup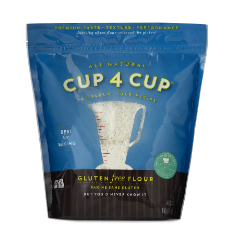 Enjoy! To Your Good Health, Sueson