Lemon Curd (gluten and dairy free!) + Gluten Free crepes!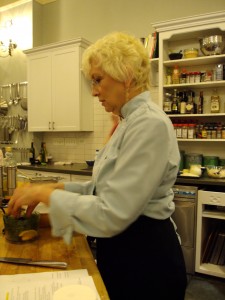 I had the pleasure of teaching a class a few weeks ago at Flavour Cooking School in Forest Park, IL. I love hearing the reasons why some people take my gluten and dairy free classes. Some are newly diagnosed with Celiac Disease, some a gluten intolerant and some are with their significant others to support them in their new ways of eating.
One of the dishes I made was lemon curd which went inside gluten free crepes. I was lucky to use Meyer Lemons which have a sweeter taste than regular lemons, however regular lemons work well too.
One of the things I use to thicken this is called KUDZU Starch. It comes in a package like this: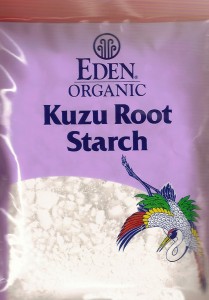 Kudzu can help thicken all sorts of things like gravies, pudding, pie filling and sauces.
This recipe makes approximately 1 1/2 cups lemon curd
Ingredients
3 whole eggs
1/3 cup honey
Zest of one lemon
pinch fine sea salt
6 tablespoons coconut oil
1/2 cup lemon juice, freshly squeezed
1 tablespoon kudzu starch
Directions
In a saucepan, whisk the eggs, honey, lemon zest and sea salt until light colored. Place pan over medium heat and add coconut oil, breaking into small clumps as it is dropped into the pot to evenly melt. whisking constantly.
Put lemon juice in a small bowl and add Kudzu starch to thicken. Add this into the saucepan with the other ingredients and continue to stir until the coconut oil is melted and it starts to thicken and a few bubbles pot at the surface.
Let cool and cover with plastic wrap touching the curd and refrigerate until cooled and thickened. 1-2 hours.
This is a really fresh and tasty dessert to make!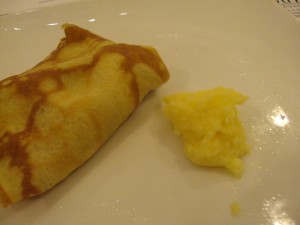 You can't have this lemon curd without crepes! I'd like to share my easy version.
First I start out creating a Gluten Free Flour Blend which consists of:
1 cup potato starch
1 cup tapioca flour
1 cup rice flour
1/4 cup sweet rice flour
Ingredients for Gluten Free Crepes – makes about a dozen
1 cup Gluten Free Flour Blend (made from recipe above)
1 cup non-dairy milk – I like almond milk
1/2 cup warm water
3 tablespoons agave syrup, honey or sugar
1/2 tsp. fine sea salt
4 eggs
4 tablespoons grapeseed oil, or melted coconut oil
Add all these ingredients to a blender and blend until smooth
Pour into a pitcher – cover and refrigerate for 15 minutes, up to 3 hours.
Directions:
Heat a 7-8 inch non stick pan over medium flame
Remove pan from heat and brush pan with oil
Stir the batter
Add about 1/4 cup measure of the batter and swirl to coat the pan
Cook the crepe until its golden brown on the bottom – 1-2 minutes
Flip and cook the other side for 30-45 seconds
You can use these right away with the curd, refrigerate them or freeze them for later use.
Have you made gluten free crepes before?