Lunch Ideas for Gluten/Dairy Free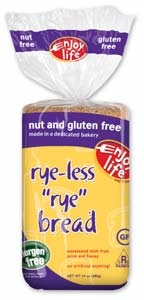 If you must have a sandwich there are a number of decent GF breads available.Enjoy Life Foods makes Rye-Less Rye Bread that tastes very good; ingredients: water; tapioca flour; white rice flour; rice starch; ground flax seed; grape juice concentrate; caraway seed; rice bran; honey; salt; yeast; expeller-pressed safflower oil; baking soda; lemon juice concentrate; xanthan gum; sodium acid pyrophosphate; citrus fiber; guar gum. Food for Life makesBrown Rice Tortillas that are very good and actually wrap without falling apart. They are excellent for making sandwich wraps or mini pizzas. Ingredients: brown rice flour, filtered water, tapioca flour, safflower oil, rice bran, vegetable gum (xanthan, cellulose), and sea salt.
When you are enjoying a salad for lunch, Annie's Naturals brand salad dressings are labeled for gluten contents and many are gluten-free. Annie'ssalad dressings are also available in single service packages for travel or office.Annie's has a wide variety of GF salad dressings, sauces and condiments. Tuna salad, a classic favorite may be a source of hidden gluten. Gluten in tuna fish? Some brands of tuna fish add broth when packaging their product and the broth may contain gluten. Check with the manufacturer if you are uncertain.
Soup is a good lunch option and if you make it yourself you can control what goes into the soup. Pacific brand, Imagine brand, Amy's Organic Soups, and Health Valley brand all make ready to heat and eat GF soups. Not all varieties are GF so check the labels. Glutino brand makes  GF soup base and soup mixes, Gluten Free Pantry also make broth mix and soup mix.
Homemade soup is still an all-time favorite when you have the time. To thicken your homemade soup without using wheat you can substitute a "slurry" of cornstarch or arrowroot flour/powder dissolved in cold water (1 tablespoon starch to 3-4 tablespoons of cold water, mix well) and add to warm soup. Continue cooking the soup after adding the slurry to cook the starch, remove any raw taste and thicken your soup. Another way to get a rich, creamy soup without starch or milk is to add cooked white or brown rice and puree until smooth.