Basic Vinaigrette Salad Dressing
I make most of my salad dressing from scratch for a few reasons.  One, they taste amazing and two, I can control what goes into it, so I know ALL the ingredients.
Once you start making your own salad dressing, you won't want to buy another bottle from the store!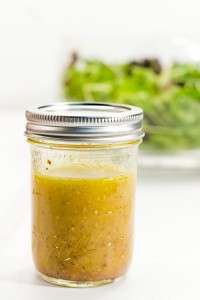 INGREDIENTS:
1/3 cup vinegar
1/2 tsp. Dijon style mustard (gluten free varieties are available)
1/4 tsp. agave syrup or honey
1 small shallot, finely minced (or garlic)
1 cup olive oil
1/2 tsp. dried herb, select one of the following: herbes de Provence; oregano; or marjoram
salt and pepper to taste
DIRECTIONS:
Whisk the vinegar, mustard, agave (or honey) and shallot together. In a slow stream, blend in olive oil to create an emulsion. Add herb of choice, salt and pepper. Taste and adjust seasonings.
THis makes 1 1/2 cups