Stuffed Tomatoes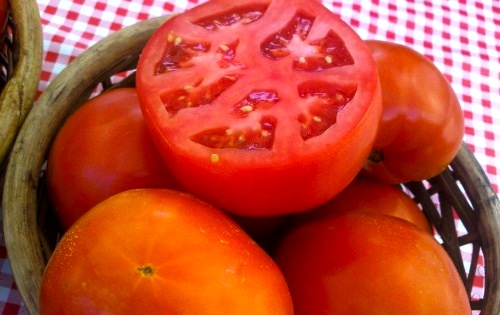 If you aren't lucky enough to have tomatoes growing in your back yard, the tomatoes I've gotten at the farmer's market this year have been outstanding.
I love all the different varieties of tomatoes, heirloom tomatoes, cherry tomatoes – it can be such a great addition to summer time dinners outside.
I wanted to share one of my favorite recipes for Stuffed Tomatoes. This is just an example, but feel free to add anything else such as lean ground beef, quinoa, play around with whatever herbs you like, its a very versatile recipe!
Stuffed Tomatoes
4 medium to large round tomatoes
3/4 cup fresh breadcrumbs*
2 tablespoons olive oil
1/2 tsp. salt
fresh ground pepper to taste
1/4 cup fresh herbs (I like parsley, basil, chives)
preheat oven to 350 degrees
cut tops from tomatoes and scoop out seeds using a melon ball tool. Place upside down on a paper towel to drain remaining juices.
Mix together in a medium bowl, breadcrumbs, olive oil, salt, pepper and herb blend. Fill each tomato with crumb mixture and place in a lightly oiled 8 inch square baking dish. Bake uncovered for 25 minutes.
*to make the recipe gluten free, use breadcrumbs from gluten free bread.
What's the best thing you've gotten this summer at your local farmers market??