Bone Broth Tips and Checklist
Making bone broth is not difficult and is an extremely healing and nutrient-dense food. Having the right tools (including equipment, recipe and quality ingredients) will de-stress and simplify the process. Making a large batch (6-12 quarts depending on space available) and freezing the broth in a variety of sized: 1 or 2 quart and 1 or 1/2 cup glass containers provides longer access to this delicious and beneficial broth.
Freezing in glass containers means no leaching of plastic chemicals. Defrosting broth from a glass container is easily achieved in a pan of hot water. When freezing in glass remember to leave ample space (at least 1 1/2″ for a quart jar) at top for expansion. Recommend filling only to the shoulder of jar AND freeze cold liquids. May need to refrigerate the broth overnight before freezing to assure best success.
Tools and Equipment (see below for detail)
16-20 quart Stock Pot or Slow Cooker
Large glass pitcher to strain into
Large and small strainer or chinois
Stainless funnel
Large ladle
Variety of freezable storage containers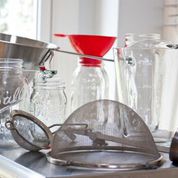 Broth may be made in a stock pot OR a slow cooker. A slow cooker may be easier for those who prefer to place all ingredients in a pot and leave the house for the day (may also cook at night while you sleep). The limitations with slow cookers are size as most large slow cookers are 6-8 quart and the inability to easily pour from crock to strain broth. Prices range from $30-$80 and more for large 6-8 quart slow cooker.
Stock Pots
Always cook broth in a stainless steel or ceramic-lined cast iron pot. Size: a 16-20 quart pot will accommodate all the ingredients and enough water to easily make up to 12 quarts of broth. Though you don't have to fill entire pot, it is nice to have space for ingredients to simmer.
Prices vary from $30 to over $100 depending on brand. Here are Amazon.com examples:
Excelsteel 16 Quart Stainless Steel Stockpot (glass lid with vent). Price: $29.97
New Professional Commercial Grade 20 Quart Heavy Gauge Stainless Steel Stock Pot, 3-Ply Clad Base, Induction Ready, With Lid Cover NSF Certified Item. Price: $99.00.
Stock pots are available online and at kitchen stores, restaurant supply stores, Bed, Bath & Beyond, and other department stores. If shopping in-person, look for a pot that feels heavy and substantial but is not too heavy to lift when full.
Strainers
After the broth has cooked it will need to be strained. There are two steps to straining. First strain liquid into a large preferably glass container with a lip like an eight-cup Pyrex pitcher. Here is an example available on Amazon.com: Pyrex Prepware Measuring Cup, Clear with Red Lid and Measurements. Price: $18.42.
Strain the broth through an 8″ stainless strainer OR chinois. Here are Amazon.com examples:
CHEFS Mesh Food Strainer Set (4 strainers 9″-3″), Price: $39.95
8-Inch Depth, China Cap Chinoise Strainer, Mesh, Stainless Steel, Price: $22.95
Norpro Stainless Steel Chinois with Stand and Pestle Set, Price: $30.75
Step one of straining will be done in stages depending on the size of the pitcher/container. Also the larger pieces of bone and vegetables will need to be discarded as the strainer capacity is reached.
Step two of the straining is into the storage jar/container. As recommended above glass Ball jars (or any freezable canning jar available online or department and grocery stores) are good for storage. After initial straining, using a stainless funnel (example from Amazon.com Norpro Stainless Steel Wide-Mouth Funnel. Price: $7.80) and a small strainer and fill jars. Set funnel in jar, set small strainer inside/on top if funnel and pour broth into jar remembering to allow space for expansion when freezing.
Assemble all equipment and ingredients in advance to simplify the process.
Chicken Bone Broth Recipe
This "Mother of Soups" is a base for other soups, sauces, gravies and can be included anywhere a savory liquid is suggested to boost nutrition. It is high in minerals and used to strengthen bones and heal digestive issues. May be made with chicken or turkey; beef broth recipes is available.
The recipe can be doubled or more depending on pot size. Always use quality ingredients, organic vegetables and animal protein that has been fed quality feed and humanely raised in pastures.
Makes approximately 3 quarts may be doubled or tripled
3 to 4 pounds free-range chicken pieces, mostly backs, necks and wings, rinsed (Do not use
chicken liver but may use other giblets)
Optional and beneficial when available: chicken feet – rich in collagen
3-4 carrots, cut in large chunks
3-4 celery stalks, cut in large chunks
2 large onions, quartered
1 leek including green part
1 bay leaf
Handful of parsley and/or thyme sprigs (fresh)
May add additional vegetables: sweet potatoes, other vegetables to taste or dietary needs
1/2 teaspoon whole black peppercorns
1/2 teaspoon whole cloves OR juniper berries
Cold, purified water
2 tablespoons vinegar or fresh lemon juice
1 kombu "stick" (sea vegetable/"Super Food" that adds highly beneficial micronutrients)
Sea Salt to taste AFTER cooking
Place the chicken and vegetables in a large stockpot over medium heat. Pour enough cold water to cover chicken about 4 quarts for one batch. Add vinegar or lemon juice. Add bay, parsley/thyme, peppercorns, and cloves or juniper berries and slowly bring to a boil.
Lower the heat to low and gently simmer for 4-5 hours (may cook longer). As the broth cooks, skim and discard any impurities that rise to the surface.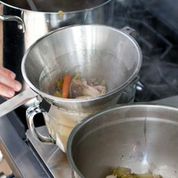 Remove the chicken pieces and discard. Strain the broth through a fine sieve into another container and discard vegetable solids. If not using the broth immediately, place the pot in a sink full of ice water and stir to cool. When cool, cover and refrigerate or freeze.