Easy Marinara Sauce – Cooking Class at Whole Foods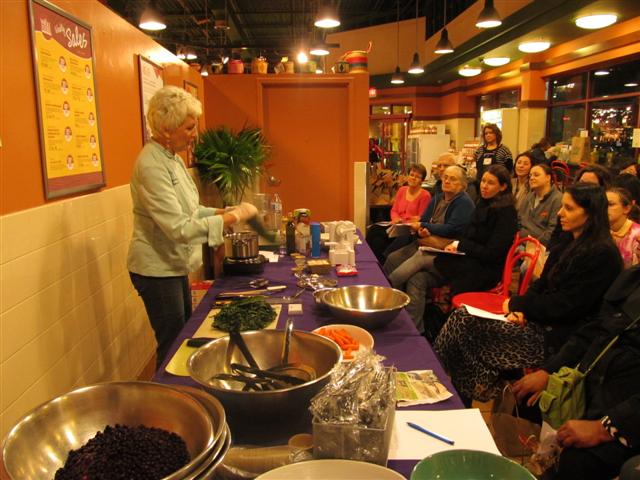 I had such a great time at the Whole Foods in River Forest creating great gluten free dishes for eager people to learn about. I love talking with people who have different food intolerance's to let them know they are not alone – but also that living with dietary restrictions doesn't have to be bland and boring! I create wonderful meals in my kitchen that heal my body and give me energy and I love sharing that with other people.
One of the recipes I was glad to share was my easy marinara sauce – it's loaded with vegetables and vitamins and a person with limited cooking skills can make this. It is difficult to have an exact recipe for marinara sauce as it varies by season and what is on hand in my fridge or pantry. This is a great opportunity to be creative, have fun and use your favorite vegetables to create your own signature marinara sauce.
Easy Marinara Sauce – Cooking Class at Whole Foods
Ingredients
1 tablespoon olive oil
1 small onion, diced
1 clove garlic, sliced
2 small-medium zucchini, diced
1 bunch of kale
1 32 oz. can crushed Gluten Free tomatoes
1 tsp. dried oregano
1/4 tsp. ground fennel
salt and pepper
Meat option: ground beef, buffalo or turkey, Italian sausage or a combo of those
Optional vegetables: fennel bulb, minced mushrooms, chopped bell peppers, chopped fresh tomatoes, eggplant or carrots
Instructions
Saute onion and garlic until soft; add the rest of vegetables and saute until softened. If using kale, saute with onions and then add rest of vegetables.
If using meat - saute in a separate pan; set aside.
Add tomato sauce and seasonings to the vegetables and simmer for at least 15 minutes (longer cooking time thickens the sauce and enhances the flavor). Add meat to sauce if using and cook for an additional 15 minutes.
Taste and adjust seasoning.
http://www.specialeats.com/2012/10/26/easy-marinara-sauce-cooking-class-at-whole-foods/
One thing I showed the class was that I decided to use zucchini instead of pasta – how do you turn veggies into pasta? By using the spriralizer!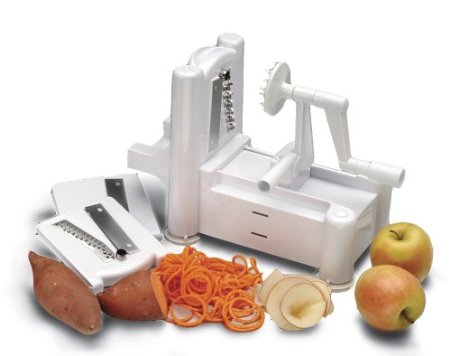 You can purchase this at Amazon.com. It's a great tool to spriralize carrots, zucchini, yellow squash, and butternut squash. Look how great it turns out! And we ended up putting the cooked pasta over the raw zucchini noodles too – it tastes amazing!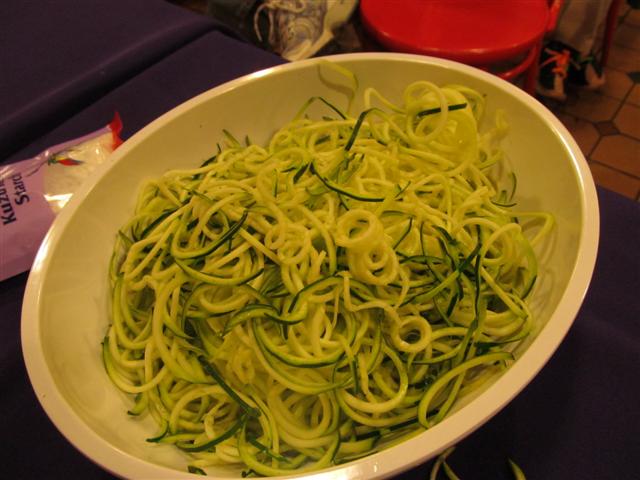 It was a great class – I'll be hopefully be back soon – and I want to give a big thanks to Lauren from Whole Foods who is the concierge at the Whole Foods in River Forest, IL for assisting in making this class so successful.