Rustic Chicken Sausage Casserole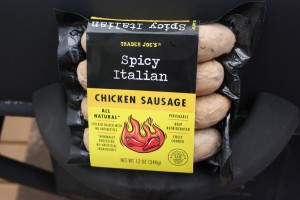 Rustic Chicken Sausage Casserole
2014-10-21 08:35:04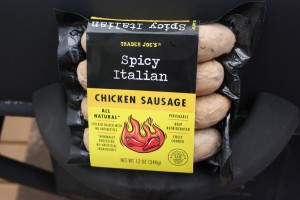 Serves 4
I love the chicken sausages you can get at Trader Joe's. They are free of gluten, soy, organic corn, nitrates, additives, MSG and sugar.
Ingredients
1 cup uncooked Jasmine or Brown long grain rice, rinsed and cooked according to package directions
1 medium onion, diced
1 clove garlic, diced
2-3 medium zucchini, sliced
(you could also use broccoli or green beans or your favorite veggie in place of the zucchini)
1 package cooked Chicken Italian sausage
2 tablespoons olive oil
8 ounces crushed tomatoes in puree
1 tsp. dried oregano
1/2 tsp. salt
1/2 tsp. ground pepper
Optional: Dairy free Parmesan cheese
Instructions
Prepare rice according to package directions. While the rice is cooking, saute the onion in a large frying pan over medium heat for 3-4 minutes. Add the garlic and cook for another minute. Add the zucchini and chicken sausages and continue cooking until zucchini is cooked al dente (still firm to the bite). Add tomatoes and spices, adjust seasoning to taste. Stir in cooked rice and serve.
Notes
This serves 4-5
I love dishes like this that are made in one skillet. To make this even easier, I sometimes cook extra rice to have leftovers on hand, so you could skip the step of making the rice by just adding the cooked leftover rice.
Special Eats http://www.specialeats.com/