Baked turkey meatballs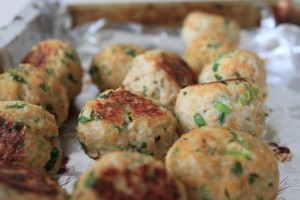 I'm a huge fan or ground turkey – I use it in lots of dishes. I like this recipe because you can make extra to freeze so a quick midweek dinner can come together quickly. And since they are baked you have time to get other things done while they bake! 🙂
Preheat oven to 400 degrees
Ingredients:
1 egg
3/4 cup dry bread crumbs (you can buy Gluten Free bread crumbs to make this gluten free)
2 tablespoons fresh sage, minced (or 2 tsp. dried)
1 tablespoon fresh parsley
2 tablespoons minced shallot
1/2 tsp. salt
1/2 tsp. pepper
1 1/2 pounds ground dark turkey
Combine all the ingredients in a large bowl and mix well. Form meatballs with small scoop or hands and place on parchment paper lined baking sheet. Bake 15-20 minutes depending on size of meatball.
You can make these for appetizers with your favorite dipping sauce (like marinara). Make these into meatball sandwiches, add these to your favorite salad, or serve with pasta. I like a brand of gluten free pasta called Tinkyada. You can check out their site here for the different varieties they sell.