Sweet Potatoes with Maple Syrup
I can't believe Thanksgiving is this week! The year has really flown by. I am thankful to my family, to all the people I've met at cooking demonstrations this year, the Gluten Free Expo's and readers of this site.
In thinking about what people make this time of year I am reminded of sweet potatoes. I did not grow up eating sweet potatoes; in fact on their Thanksgiving appearance I turned up my nose and refused to even taste the sweet and nutritious treat. Something happened in my 40's and I tasted sweet potato soup – which I loved. At first I only ate sweet potatoes disguised as soups, casseroles, etc.
Now I eat them any way I can find them including, as indicated here, or occasionally with the skins intact. I hope you enjoy the unlimited possibilities of sweet potatoes.
Ingredients:
4 medium sweet potatoes, peeled and cut into quarters
1/4 tsp. nutmeg
3 tablespoons pure maple syrup
1/2 tsp. salt
In a large pot, cover sweet potatoes with water and cook until tender. Drain and transfer to a large bowl. Mash potatoes by hand or with a potato masher or puree in a food processor or pass through a potato ricer. Add the nutmeg, maple syrup, salt and mix well. Taste and adjust seasoning.
This serves 4-6 people.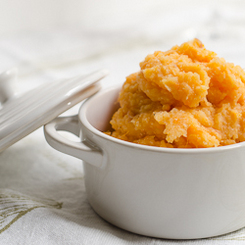 Happy Thanksgiving! 🙂