Easy Tomato Soup Recipe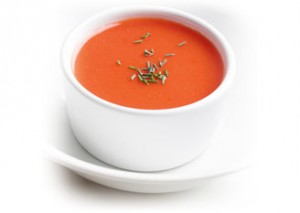 I love making soups that are simple yet tasty!  This soup can be put together in no time flat – great for a weekend lunch or a weeknight dinner.  Leftovers brought to work for lunch the next day is great too.
Ingredients:  

2 teaspoons olive oil
1 medium onion, chopped
2 stalks of celery, chopped
2 (28-ounce) cans diced tomatoes in juice
2 tablespoons tomato paste
3 cups rice or soy milk (not flavored such as vanilla) or cow's milk
Slurry: 2 tablespoons cornstarch or arrowroot dissolved in ½ cup of cold water
1/4 teaspoon sugar (optional)
¼ teaspoon ground nutmeg
1 teaspoon dried marjoram
Salt and pepper to taste
Directions:
Heat a large Dutch oven-type pan over medium heat; add olive oil and sauté onion and celery until soft. Do not brown. Add tomatoes (including the liquid) and tomato paste and mix well. Puree mixture in a blender or food processor in small batches or use an immersion (stick) blender. Be extra careful when blending hot liquids in a blender; hot liquids expand in blenders. Do not fill blender (or processor) more than half full and cover blender with a dish towel before turning it on to avoid being burned by hot liquid. Note: a blender will yield the smoothest finished soup.
Return mixture to the pan and add the milk, simmer (do not boil) for 10-15 minutes. Add sugar, seasoning and salt and pepper to taste. Add slurry of cornstarch or arrowroot to soup and blend well. Cook over medium heat stirring constantly until mixture thickens.
Taste and adjust seasoning. Remove from heat and serve.
Optional seasonings: Fresh or dried basil, fresh or dried thyme; or fresh or dried tarragon in place of marjoram. (Note : use one not all.)