Sweet Potatoes – Oven Baked Sweet Potato Wedges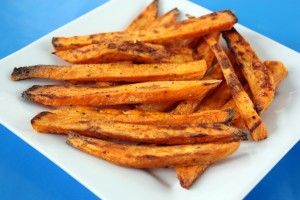 I did not grow up eating sweet potatoes, in fact on their Thanksgiving appearance I turned up my nose and refused to even taste the sweet and nutritious treat.  Something happened in my 40's and I tasted sweet potato soup – which I loved!  At first I only ate sweet potatoes disguised in soups, casseroles, etc.  Now I eat them any way I can find.
Ingredients:
4 medium sweet potatoes, scrubbed and cut in wedges.
2 tablespoons olive oil
salt and pepper to taste
Optional: 2 cloves garlic, sliced, 2 tablespoons fresh rosemary or 2 tablespoons fresh thyme (you can use 2 tsp. of dried herbs in place of fresh herbs here)
Preheat the oven to 425 degrees.  This is an important step because it shortens the amount of cooking time vs. placing these in a cold oven.
In a large roasting pan toss the sweet potatoes, olive oil, salt, pepper and optional seasoning of your choice.  Distribute them evenly in a thin layer.  Roast for 40-45 minutes.  I suggest turning them every 15 minutes or so so that all sides are browned. The potatoes should by slightly tender when done.