Black Bean-Wild Rice Vegetarian Chili (with my special chili-garlic seasoning)
Welcome to Fall! I love this time of year, with the cooler temps and the leaves starting to change. It's also a great time to get back in the kitchen and cook. I love soups and chili's and over the next few weeks I'll be posting some of my favorite fall time meals. One of which is the recipe I am about to share for my Black Bean-Wild Rice Vegetarian Chili.
This recipe feeds 8-10 people – also great leftover the next day!
Ingredients:

1 cup wild rice, rinsed and cooked according to package directions in vegetable broth
2 tablespoons coconut oil or grapeseed oil
1 large red onion, chopped
1 cup celery, chopped
1 cup carrot, chopped
1 15 oz. can black beans, rinsed and drained
2 15 oz. cans of garbanzo beans, rinsed and drained
3 cups vegetable broth
2 tsp. Sueson's chili-garlic seasoning (see recipe for that below)
1/2 tsp. cumin powder
1/2 tsp. salt
Fresh ground pepper
Directions:
In a large skillet heat oil, then saute onions, celery and carrots over medium high heat until soft, about 8-10 minutes. Add beans and vegetable broth and seasonings. Simmer for at least 15 minutes. Taste and adjust seasoning.
Recipe for my Chili-garlic seasoning:
Ingredients:
1/2 tsp. allspice
1/2 tsp. chipotle pepper powder
1/4 tsp. of cayenne pepper
1 tsp. garlic powder
1 tsp. dried thyme
1 tsp. dried oregano
1 tsp. coriander
1 tablespoon cinnamon
1/4 cup chili powder
One tip for making things like this seasoning recipe with lots of spices you may not have on hand, is going to Whole Foods. They have a bulk bin area with tons of spices. You can buy as little or as much as you like. I've done that before using spices I've never tried before or for recipes that call for only 1-2 tsp. of something I don't normally keep on hand. So instead of spending a lot of money for a jar of a spice you may never use again, you can pay less than 25 cents for the spices you need.
This is what it looks like at most Whole Foods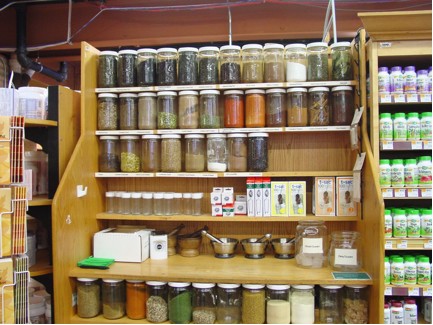 This is such a great dish to put together even on a week night or for a crowd of people for a football game at your house.
What's your favorite kind of chili? Do you like it super spicy, with beans or no beans??
*This recipe can be made for people who are gluten or dairy free.