Cinnamon Snack Mix
Who doesn't love snack mix??  I do!  This is a great recipe to make on the weekends to put in kids lunches and the best part is, you don't even need to bake it, you just need the microwave.
If you want to make this recipe Gluten Free, Chex Mix now makes Rice and Corn Chex that are now gluten free.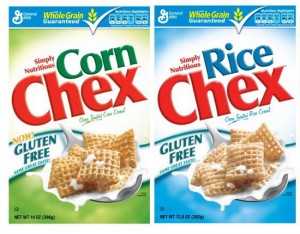 Ingredients:
2 tablespoons melted coconut oil or grapeseed oil
1 tsp. sugar
1/2 tsp. cinnamon
5 cups Rice and Corn Chex (or Rice and Corn Crunch ems made by Health Valley
1 cup pretzels 
1/2 cup assorted dried fruit such as pineapple, raisins, cherries, bananas, etc.
*Optional nuts, soy nuts, or gluten free chocolate chips
Directions:
In a large microwave safe bowl, heat the oil on high for about 30 seconds until melted.  Add the cinnamon and sugar and stir.  Add the cereal and pretzels and stir to evenly coat.  Microwave the mixture again on high for 1 minute.  Add in the nuts/chocolate chips if using.  Cool and store in an airtight bag.
This is so good, it probably won't last that long in your house!