Mamma Chia Juice Drink Give away!!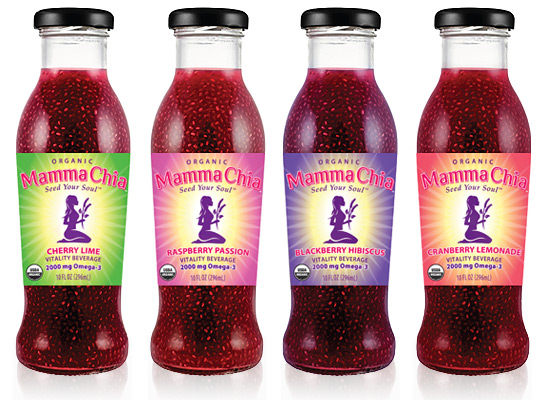 I am happy to announce a give away for a chance to win a VIP coupon to try a free bottle of Mamma Chia – or a coupon for $1.00 off!
3 lucky readers will win a free bottle and 5 lucky readers will get a coupon for $1.00 off!
What is Mamma Chia? Mamma Chia was founded by Janie Hoffman of Bonsall, California. Several years ago, she began a quest to find a diet to address some health issues. Along the way, she fell in love with the magic of chia, a tiny seed used by both Mayans and Aztecs for its amazing energy and natural healing powers. She started adding chia seeds to things she made, but the most popular was Janie's chia beverages and soon Mamma Chia was born.
Mamma Chia comes in 4 flavors: Cherry Lime, Raspberry Passion, Blackberry Hibiscus and Cranberry Lemonade.
Each bottle is only 110 calories and contains:
2000 mg of Omega-3
4 grams of protein
33 mg. calcium
10 grams fiber
9 grams sugar (from Agave)
Gluten-Free & Vegan
High Antioxidants
Eco-friendly glass bottle
Once chia seeds are added to liquid, a gel forms around it, which helps suspend it in the bottle. These can be purchased in hundreds of health food stores around the country as well as at Whole Foods. Please keep refrigerated.
How do they taste? Delicious! Very refreshing and light and not too sweet. I love being able to buy something that is not filled with sugar and has no nutritional value.
To enter – please leave a comment. Have you tried chia seeds before?
If you tweet this you get a 2nd entry and if you share a link on Facebook you get a 3rd entry.
Check out Mamma Chia's website TODAY
You have until August 25th to enter. Good luck! 🙂
*I did receive free samples of the product, but the opinions are my own.