Berry Smoothie + other smoothie ideas
I think smoothies are such a fantastic way to get nutrients into your body. You can cram so much goodness into a tall smoothie and the possibilities are endless. Using fresh or frozen fruits and different flavored juices and proteins you can please the pickiest eater.
I love making smoothies on a hot summer day to cool off and I think it's also a great way to start the day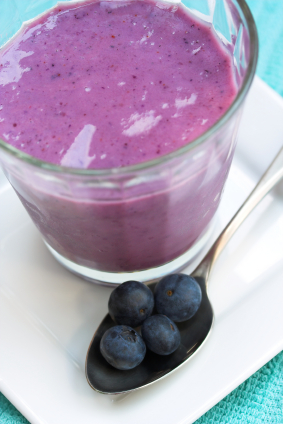 Normally I start my smoothies with 1 banana (fresh or frozen) and add 1/2 cup fresh or frozen fruit, a protein which could be yogurt (non-dairy if you are lactose intolerant), rice or hemp powder, walnuts, protein powder with 1/2 cup of juice.
My Berry Buzz is:
1 cup mixed berries (could be raspberries, strawberries, blackberries and blueberries)
1 cup cranberry, cherry or pomegranate juice blend
4-5 ice cubes
Place all items in a blender and blend until smooth.
Here are some other favorite combos of mine:
Key lime pie:
1 avocado (fresh)
1 whole lemon, (peeled)
sweeten to taste with agave or honey
1 cup coconut milk (not lite)
4-5 ice cubes
Blue Hawaii
1/2 cup frozen or fresh blueberries
1/4 cup walnuts
1/2 cup pineapple juice, coconut water or orange juice
Those are a few of my favorites – what is your favorite smoothie you make?
***TIPS****
If you use frozen bananas, peel the skins off and cut into chunks. Place in a Ziploc bag and put it in the freezer.
If you aren't using frozen bananas, add 4-5 ice cubes in place of it (unless recipe calls for ice).
If you would like to add some added fat, add 1-2 tablespoons of coconut, hemp or flax seed oil.
For extra protein and fiber add 1 tablespoon flax, hemp or chia seeds.
Enjoy!! 🙂