Sueson's Hummus
My vegetarian nephew, Joe lived in Egypt for two years while working as a journalist. He considers himself a "Hummus Expert". When reading this recipe he asked, "Where is the olive oil?" Although I have never added olive oil to my hummus, at his urging I tried it and agree that it adds a very delicious dimension to the hummus. It is good either way.
There are lots of store bought versions on the shelf these days, but I think they are more expensive and you don't get as much as if you make it yourself.
Ingredients:
2 cups cooked garbanzo beans (or 15 1/2 oz. can drained and rinsed)
1/4 cups sesame seeds or tahini (sesame paste)
Optional: 2 tablespoons gluten free soy sauce
Optional: 1 1/2 tablespoons extra virgin olive oil
2-3 garlic cloves, minced
2 tablespoons fresh lemon juice
1 teaspoon oregano or thyme, dried
Optional: pinch of cayenne pepper
Directions:
Mash beans into a thick paste in food processor. Add water while pureeing to reach desired consistency. If using sesame seeds, toast seeds first in a dry heavy skillet over high heat 1 to 2 minutes or until just golden. (Watch closely so the seeds do not burn). Add the toasted sesame seeds or tahini to garbanzo paste and mix well.
Add garlic, lemon juice, lemon zest and oregano and mix well. Taste and adjust seasoning. Stir in olive oil if using. Chill until ready to serve.
I have a couple of variations too:
Black bean hummus. Use 1 cup each cooked black beans with 1 cup garbanzo beans. Substitute orange juice and zest for lemon.
Roasted Pepper hummus. Add 1/2 cup roasted sweet bell peppers, yellow, red or orange (drained if in liquid) and puree with hummus.
Serves 12
If you've never bought hummus at the store, it comes in a jar and looks like this: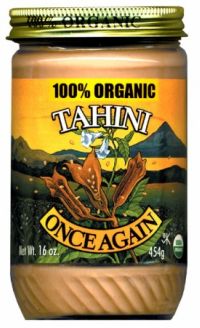 Making this and cutting up different kinds of veggies is a GREAT and healthy snack or before dinner appetizer!