Homemade Breakfast Sausage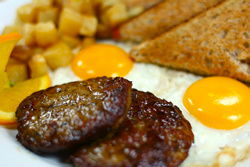 MAKES 12 TO 15 PATTIES (Printable Recipe)
Making your own sausage creates the flexibility to use fresh meat and seasonings of your choice. Plus, you avoid the artificial ingredients, preservatives and additives often seen in commercial brands. Adding dried or fresh fruit lends a hint of natural sweetness. This recipe is ideal for those who are following a rotation diet; make several batches, each with a different meat, and freeze it raw or precooked until ready to use. Also, it is so much more economical to make it yourself vs. buying it from a box. You control what goes in it.
1 pound ground dark turkey (or chicken, pork, beef or a combination)
1½ teaspoons marjoram or ½ tea- spoon rubbed sage
1/2 teaspoon thyme
1/2 teaspoon salt
1/2 teaspoon white pepper
1/4 teaspoon ground allspice
1/4 teaspoon ground cinnamon
1/4 teaspoon ground nutmeg
1/4 teaspoon ground fennel seeds
1/8 teaspoon cayenne pepper, to taste
1 small pear or apple, cored and finely diced, optional (may leave skin on)
2 tablespoons dried cranberries or cherries, chopped, optional
❧ Olive oil, grape seed oil or coconut oil, for sautéing
1. In a large bowl, combine all ingredients until well blended.
2. Form mixture into 12 to 15 small patties with well-oiled hands.
3. Sauté patties in a large skillet over medium/medium-low heat with a small amount of oil for 2 to 3 minutes per side or until cooked through. Serve hot. May be cooked and frozen for later use.
Each serving contains 65 calories, 3g total fat, 1g saturated fat, 0g trans fat, 24mg cholesterol, 3g carbohydrate, 106mg sodium, 1g fiber, 5g protein.
TIP To save steps, use 1 tablespoon Penzey's Breakfast/Pork Sausage Seasoning or Bavarian Style Seasoning (penzeys.com) in place of the nine individual spices. OR, at Whole Foods in their bulk spice department, you can actually just buy however much spices you need. I've gotten as little as a teaspoon of a spice if it's something I don't use all the time. That way you don't have to buy a jar of each of these spices.
Have you ever made home made sausage before? What spices/flavors do you like to use?