Dairy-Free Ranch-Style Dressing/Dipping sauce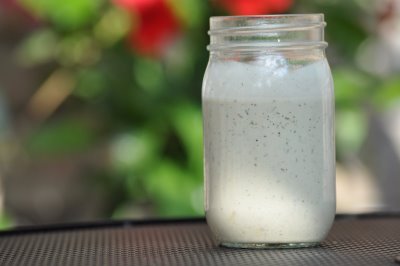 Just because you have to avoid dairy, doesn't mean you can't enjoy this delicious ranch-style dressing. You won't even miss the dairy with this flavorful, creamy salad dressing! Here's what you will need:
Ingredients:
3/4 cup mayonnaise
1 cup cashew cream*
1 tablespoon fresh lemon juice
1.5 teaspoons Dijon mustard
1 tablespoon dried parsley or chervil
1 teapsoon dried chives
1 teaspoon dried dill weed
1/2 tsp. garlic powder
1/4 tsp. white pepper
salt to taste
*(To make the cashew cream, add 2/3 cups raw cashews pureed in a blender with 1/2 cup boiling water until the consistency of cream, may add more water if needed).
Directions:
1. Whisk mayonnaise, cashew, lemon juice and Dijon mustard in a large bowl.
2. Stir in seasonings.
3. Cover and chill at least 1 hour to blend flavors.
4. Dressing can be stored in refrigerator for 10 days.
This recipe makes 2 cups.
Enjoy!
I also wanted to share a few recipes from some other Gluten Free ladies.
Amie from The Healthy Apple is a gluten and dairy free blogger in Manhattan. Check out her recipe for these great waffles!

Click HERE for Amie's recipe for these Gluten Free Waffles
Kristina from Spabettie made a gorgeous and healthy green grapefruit juice. Doesn't this look amazing?
Click HERE for her recipe for that.
And lastly, don't forget about the Fundraiser at Pinstripes tomorrow night, July 21st in Northbrook. A great fundraiser for The University of Chicago Celiac Disease Center, it's going to be a great time!
I hope you are surviving the heat wave! In the Chicago-land area it's the hottest its been in a LONG time, high 90's and very humid. What do you like to cook when it's so hot out?