Harvest Time Quinoa Pilaf
This is a tasty salad that is loaded with vitamins and minerals. The best part is you can prepare this ahead of time and serve it chilled or at room temperature, great when the summer days are hot. One of the things I love about this salad is of course the quinoa. Quinoa has all 9 essential amino acids that our bodies need and it uses another ingredient that people don't often think about, which is jicama. Jicama is a tuber vegetable closely related to the potato. It is not a very appealing vegetable, but the inside is crunchy, juicy and slightly sweet almost pear like. It doesn't discolor after cutting and it can be eaten raw or cooked in soups and casseroles. Just peel the skin with a peeler and slice it or dice it. Jicama is also low in calories, only 46 calories per cup! Here is what jicama looks like: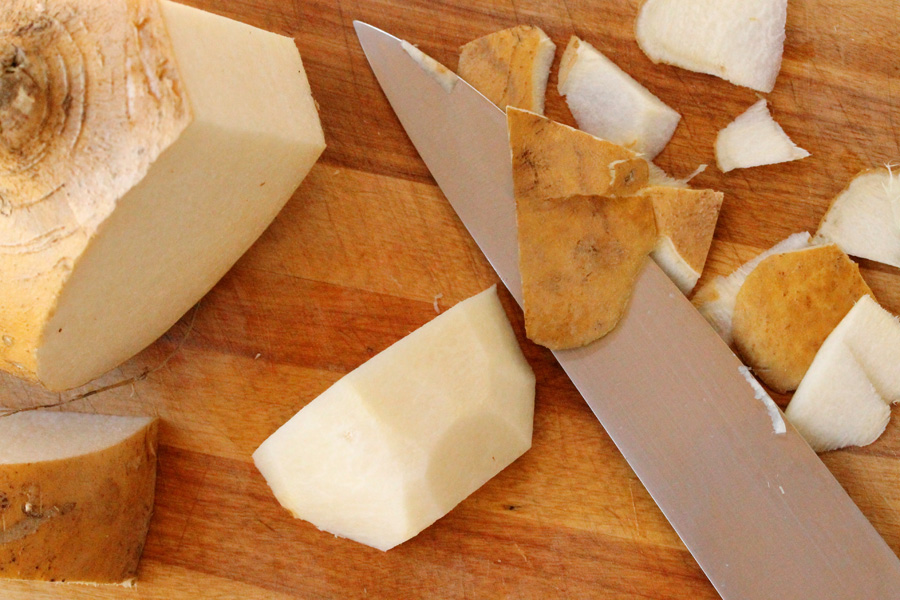 Printable Recipe
Ingredients:
2 cups water
1 cup organic quinoa whole grain
2 teaspoon olive oil
1 medium onion, chopped
1 cup jicama, diced
1 cup organic corn, fresh, or frozen
1 cup red bell pepper, chopped
2 cloves garlic, minced
2 tomatoes, chopped
1 bunch green onions, sliced with some of green included
1/2 cup toasted pumpkin seeds (Raw)
1/2 cup raisins (or cranberries)
2 tablespoons cilantro, chopped
3 tablespoons lemon or lime juice, fresh squeezed
1/2 teaspoon salt
1/4 teaspoon pepper
Rinse quinoa before using. In a medium size saucepan bring water to a boil water and add quinoa. Cover and reduce heat, simmer for 15 minutes or until liquid is absorbed. Remove from heat and fluff with fork. Set aside.
In a medium skillet heat olive oil over medium-high heat, add onion, jicama, corn, peppers and garlic, sauté until soft. Add cooked quinoa grain, tomatoes, green onions, pumpkin seeds and raisins, stir until well blended, and cook for 1 minute.
In a small bowl combine cilantro, lime juice, salt and pepper. Blend into pilaf. Serve hot or room temperature.
This is delish! It is a great way to get lots of veggies in one dish. Feel free to add more veggies or cut up chicken to make it a meal.
Quinoa is one of those food items I always like to have in my pantry to make quick and healthy meals from. It can be found in the rice section of virtually any major grocery store.