Coconut oil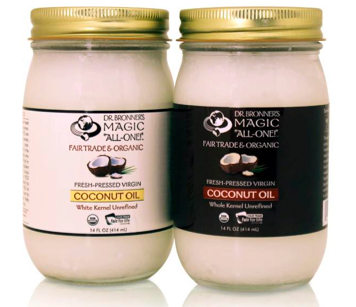 I love coconut oil.  I use it just about every day in my cooking.  Some people get nervous about fats – especially when they are trying to eat healthy, but coconut oil, in moderation is a great thing to introduce to your diet.
There are many benefits of coconut oil.  Even though coconut oil contains saturated fat, it is actually a heart healthy fat.  Lauric acid in the coconut oil helps prevent heart problems like high levels of cholesterol and high blood pressure.  Coconut oil is also rich in poly-phenols, Vitamin K & E and also rich in Iron.
The other advantage of coconut oil is it's high heat tolerance. It's great for sauteeing, quick stir fry's or what I like to do is put a few teaspoons of the coconut oil in a skillet and let it melt.  Add fresh cleaned kale torn into pieces and quickly cook the kale for just a few minutes.  You can sprinkle it with sea salt.
It's delicious.  Where can you find coconut oil?  Whole Foods, they have several different brands, Trader Joe's, Fruitful Yield.  It usually comes in a jar, you don't need to refrigerate it.  It is solid at room temperature and can be stored up to 2 years! 🙂